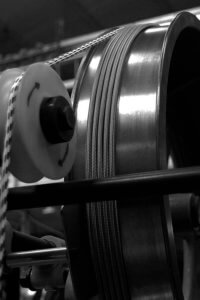 We run a family business with Italian origins who began manufacturing trimmings 50 years ago for furnishing and the fashion industries. Meeting the demand of our customers in the furnishing sector we launched the textile covered cable branded as Cordon D'Or.
"Our commitment is to offer the highest quality so we have exclusively Spanish and European suppliers with all the necessary certifications in our products."

We offer the customer a unique experience in the treatment of cables of decoration, obtaining maximum quality finishes to maintain excellence in the sector.
Our factory
In our factory, based in Madrid, we have qualified staff who started the journey of this project, as well as new generations that contribute with creativity and know-how.
Stock
We have a large stock of raw material to meet the needs of our customers in the shortest possible time for production.
R+D
State-of-the-art machines that guarantee the highest quality. Leaders in the textile cable market for more than 25 years. Permanent innovation in materials and designs.
Certification
We offer high quality products with all the necessary certificates. Our coated cables are original and creative helping to give added value to the final product in which they are implemented.
Technology
We have the latest machine technology to make the process safer and of better quality and reliability.
Speed
We also have stock already produced of the most demanded coated and colors making direct shipment possible shortening delivery times.
  CALL US
+34 91 604 89 88
+34 91 604 90 51

  info@cordondor.com
  OPENING HOURS
09:00h. – 14:00h
15:00h. – 18:00h.
(Working days)
 OUR ADDRESS
C/ Pico Santa Catalina, 2A
Pol. Ind. Los Linares
28970 Humanes de Madrid
(Madrid) – España
CORDON D´OR IS A BRAND OF

: